The 12th annual Kool Pakº Driver of the Year Awards banquet was held on May 7 in Clackamas, in the Oak Banquet Room at Denny's. There were plenty of hugs and happy people celebrating their accomplishments and successes at this year's event.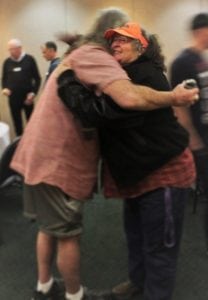 Personalized leather jackets were awarded to proud recipients of the 1st year Driver of Excellence and Driver of the Year.
Next year, maybe you?
The Local Driver of the Year award was granted to Alberto Amezola. This was his third year as a Driver of Excellence. Alberto is smiling here with Team Ontario. Go Ontario!
Winning his first Driver of Excellence Award, Ryan Pierce is sporting his new KOOL jacket. He's from the Clackamas facility.
Bruce Boderman earned his Driver of Excellence award for the second time, along with his very own mini scale Kool Pakº Truck.
Our Equipment and Maintenance Manager Dean Moyer won the third annual Richard Kelly Award for Leadership. Granting him the award is Nicole Hawks-Morse, CDS, Director of Safety.
Congratulations to Glenn Scoggan for earning his Driver of Excellence Award for the ninth time! Honoring his accomplishment are CEO Steve Ness and CFO Wade Palmer.
Allen Lee, long time Kool Pakº Driver and Kool Shield advocate, earned his 4th Driver of Excellence Award.
CEO Steve Ness offers a hearty congratulations and a bit of friendly chiding to long time driver, Ricky Humphries, as he receives his 12 driver of excellence award.
Twelve-year Kool Pak veteran Roby Schiele receives his Driver of Excellence Award from CEO Steve Ness.
Jack McDoniel, another long time, well-respected employee, earns his 4th Driver of Excellence. He's with his wife, Marianne.
Long time Kool Pak employee, Susan Esquivel-Ziemer, shares a happy moment with two generations of her family as she wins her well-deserved Driver of Excellence Award.
All of us at Kool Pakº appreciate our award-winning drivers – and the support teams that help them on their routes. These coveted awards are granted based on Kool Pakº standards and values, including:
Customer Service
Safety
Timeliness
Cleanliness
Reliability
Safe driving record
No freight loss
Kool Pakº 2017 OTR Drivers of Excellence
Ed Ramsdell: OTR Driver of The Year
Bruce Boderman
Terry Burns
Tracy Denney
Lee Esperanza
Cindy Haberstich
Jim Haberstich
Bill Hanks
Ricky Humphreys
Ray Johnson
Jack McDoniel
Gary Sanford
Glen Scoggan
Lance Scott
Bud Selvy
Kool Pakº 2017 Local OTR Drivers of the Year
Alberto Amezola: Local Driver of The Year
Tim Eaton
Susan Esquivel-Ziemer
Dave Ferris
Allen Lee
Mark Patterson
Ryan Pierce
Roby Schiele
Ron Yarnell
Les Davidson
Larry Hochhalter
David Nelson
Denny Vetter
Dennis Santos
Danny Lopez
Dan Mendonca
Kool Pakº 2017 O/O of the Year
Michael Borner: Owner Operator of the Year