Kool Pak was founded in 1968 by industry veteran Paul Harris with a vision to provide refrigerated services to the meat processing industry in Portland and Seattle. Harris started the business with five employees and a few old Freightliner trucks. In September of that year, he leased space in the old cold storage plant of the Pacific Meat Company in Portland. His first year's revenue was $1,500,000 and business was booming.
By 1974, Kool Pak had outgrown their refrigerated warehouse and the company borrowed $1,400,000 to expand into a new, larger cold storage warehouse. Harris recalls "one of the great moments from our first years in business was the opening of a huge 38,000 square foot warehouse".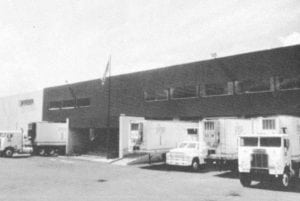 With the expansion came new transportation accounts and expanded logistics services for large national companies including Jimmy Dean Sausage, John Morrell Foods and Rath Packing Company. The company's reputation grew quickly and interest in Kool Pak services expanded; they again enlarged their facilities in 1980.
In 1987, Ness Holding Company (founded in 1939), purchased Kool Pak and brought the Kool Pak business in-house at their Swan Island facility in Portland, combining both business operations into a single location.
In 2003, Kool Pak became Kool Pakº LLC and expanded their transportation services to serve most major U.S. cities. In 2006, Kool Pakº moved once again to a larger facility in Clackamas, Oregon and added a second location in Kent, Washington in 2007.
Further extending their west coast coverage, in 2012 Kool Pakº acquired Polar Express in Langley, British Columbia and opened the first California facility in Ontario. In 2014, Kool Pakº opened a second California plant in Patterson, California to provide increased Transcon services and improve transportation and distribution services throughout the southwest. Now with five strategically located facilities on the west coast, Kool Pakº offered services to all of the U.S. and western Canada.
Today, Kool Pakº is committed to using the best equipment and systems in the industry, investing in Freightliner Cascadia tractors, Utility and Wabash trailers and ThermoKing dual temp refrigeration units for every Kool Pakº trailer. Kool Pakº also incorporates the TMS operating system, the ibright® Refrigerated Unit Telemetry System, as well as disc brakes on all new tractors and trailers, to ensure maximum safety at all times.
Developed by Kool Pak, the patented Kool Shield system is installed in every trailer to maintain cargo integrity throughout the cold chain.
After 50 years in the transportation, logistics and distribution industry, Kool Pakº continues their firm commitment to providing exceptional service to customers throughout the U.S. and Canada. Kool Pakº looks forward to the next 50 years of expansion and growth.